The Community Readiness Canvas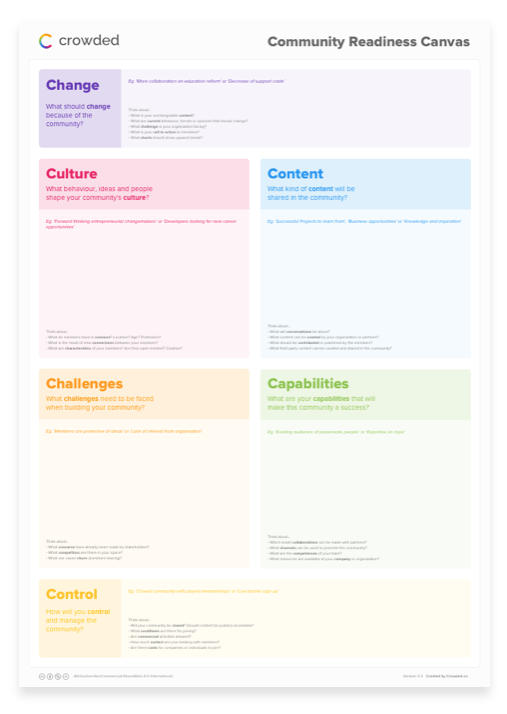 Ready to build a community? Our Community Readiness Canvas is a framework designed to help you and your team lay the groundwork for your community strategy, and provide you with actionable next steps.
The canvas covers the different aspects you need to consider before starting a community and helps you create alignment within your team and organization. Our goal is to help you get to a point where you and your team are ready to build your community.
Get started now
Sound good? You have two options: you can either download the PDF canvas and complete it together with your team using our blog articles as a guide.
Book a workshop
Or you can book a 3-hour workshop with us where we'll guide you through each section, and provide you with a strategic report and benchmark the results with clearly defined action points that serve as stepping stones towards creating a successful community. We'll also bring along some real-life case studies to make it easy for you to find the right answers.
Schedule a workshop with the Crowded team.

Get in touch
What's in it for you?
Align your team on multiple subjects with time pressured decision making
Get a benchmark and report with actionable steps and advice
Learn from other communities via case study examples
The 6 Cs
Our Community Readiness Canvas is divided into 6 Cs, and in each section, we have identified a set of questions that will help you map out your community strategy:
What should change because of the community?
What behavior, ideas and people will shape your community's culture?
What content will be shared in the community?
What challenges need to be faced when building your community?
What capabilities do you have to make your community a success?
How will you control and manage the community?
Ready to kickstart you community strategy? Download the Community Readiness Canvas