With developments such as open banking, cryptocurrencies, and the growing number of fintech startups threatening to disrupt the financial industry, a call for change is underway. Even big tech giants like Google and Apple are now directly competing with mobile banking apps by introducing competitive services such as Apple Pay and Google Wallet.
While the future looks uncertain for banks, Moneyou — the first fully digital bank in the Netherlands — saw this as an opportunity to create a game-changing banking app for tech-savvy millennials.
Moneyou previously provided mortgages, loans, and savings accounts, but wanted to broaden their services. That's why they introduced the Moneyou Go app, a mobile payment account for the digital native generation.
But, as we all know, winning the hearts of millennials is no easy task — especially when it comes to digital experiences.
So how could Moneyou make sure that they created an app that resonated with millennials?
The answer is easy: speak to them in the first place. That's why the Dutch bank decided to build Moneyou Create, an online community to collect product feedback from the people who matter most — their customers. Millennials are defined by their entrepreneurial spirit, value transparency and like to share their experiences, so building a community was a no-brainer.
The team began by inviting the early adopters of Moneyou Go to join the community and provided a platform to gather feedback from users, brainstorm new ideas, and validate product developments.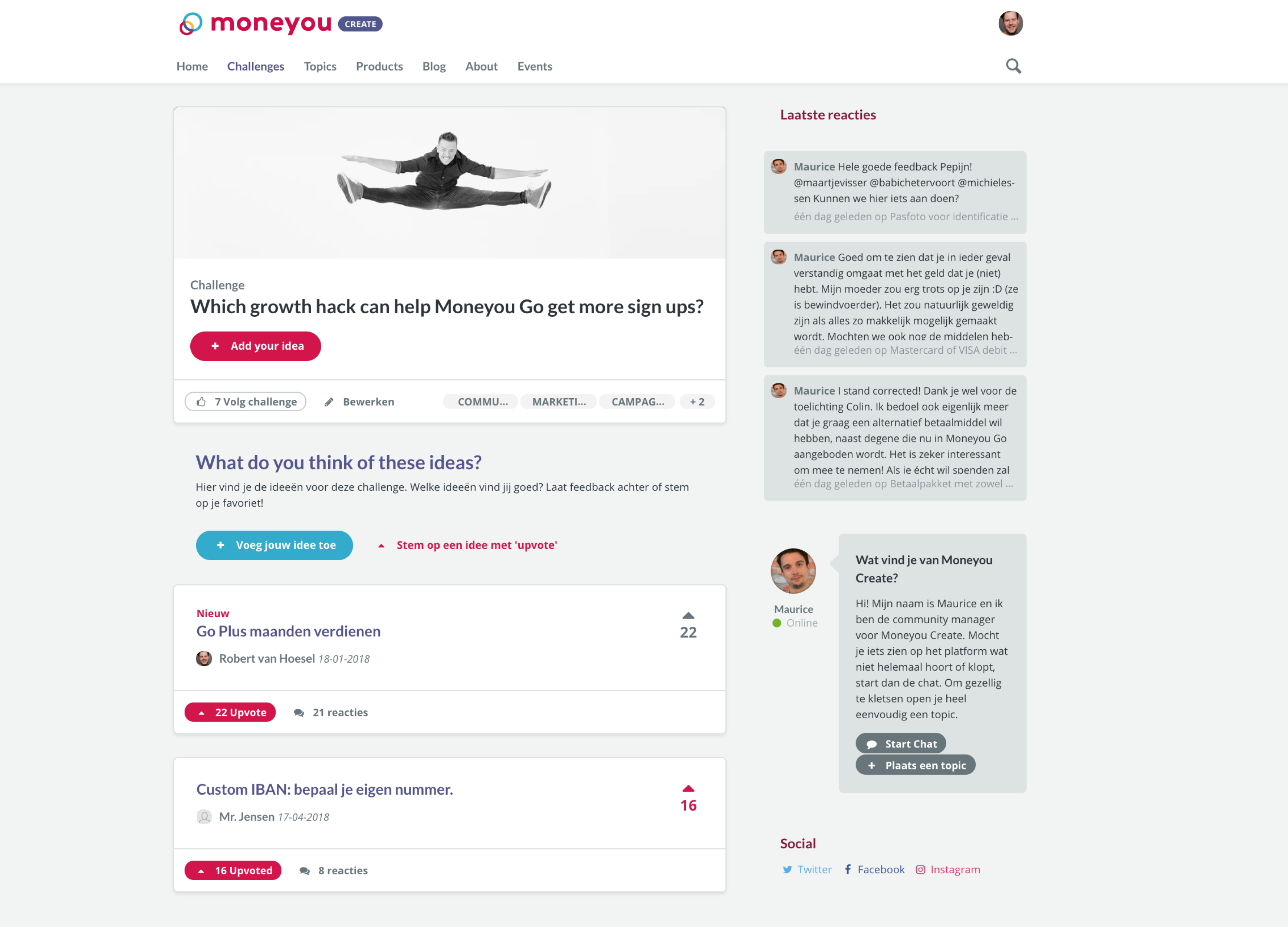 Moneyou Create has only been active for less than a year, but the bank is already reaping the rewards. Here's how Moneyou engages their community to co-create the perfect bank.

Want to know what Crowded can do for you? Sign up for a demo here.
They make it easy to share inspiring content
Moneyou Create is more than just a product-focused community. If you take a look at the discussion forums, you'll see topics ranging from tips for digital nomads and productivity-enhancing Spotify playlists, to cryptocurrency advice and artificial intelligence — usually inspired by an interesting video, a funny tweet or a thought-provoking news article.
Crowded communities make it easy for community members to share easily digestible content, and spark conversations about different topics. Unlike old-fashioned forum sites, content sharing on Moneyou Create is similar to social media platforms like Facebook and LinkedIn, allowing users to share external media within the community.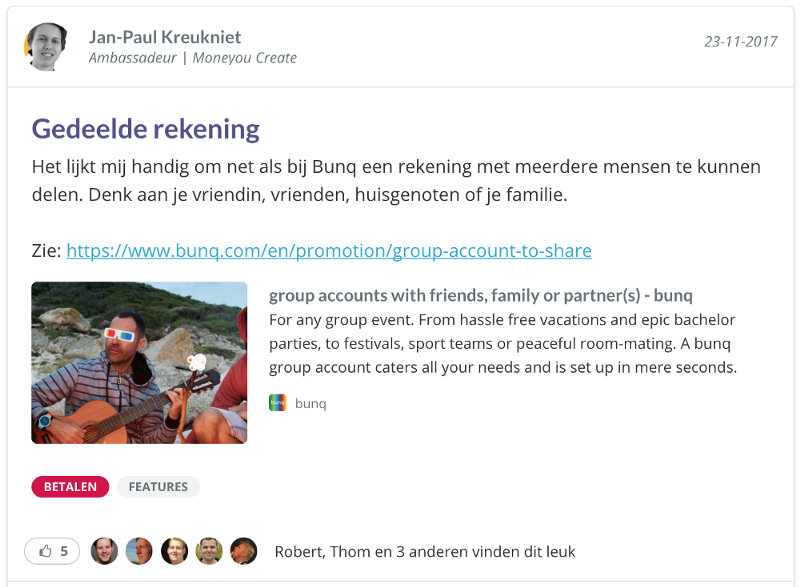 They crowdsource ideas from members
How do you show that you are open to new ideas? By actively asking for them. Moneyou encourages their members to share their opinions by setting up idea challenges such as "What is a good name for this feature?" and "How can we make our service completely different?" Transparent idea sharing encourages the entire community to take part in the development of ideas and gives members a platform to give suggestions and ask critical questions.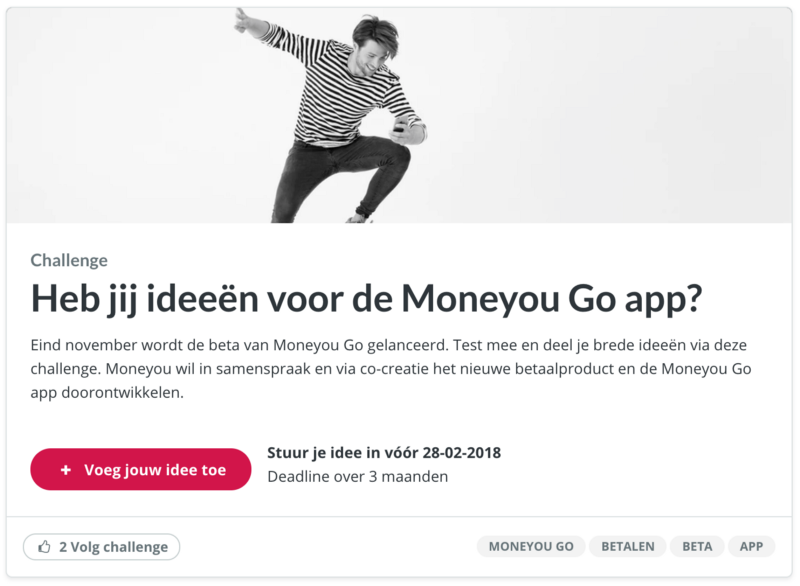 They create engaging content
Sometimes you have to keep your members engaged with your own content. That's why Moneyou writes one long-form article every week for its members, or as they call it "inspirational bites and brain fuel for optimistic digital-grinders". Moneyou experiments with different types of content, including interviews with community members, how to guides, and trend reports.

They are transparent about new product developments
In the community, you can see which products Moneyou are planning to build in the near future. They even have a dedicated product page, where you can sign up for pilot and beta testing. Here you can also view the product roadmap to see a list of new features and updates that are in the works, and which team members are involved in the development.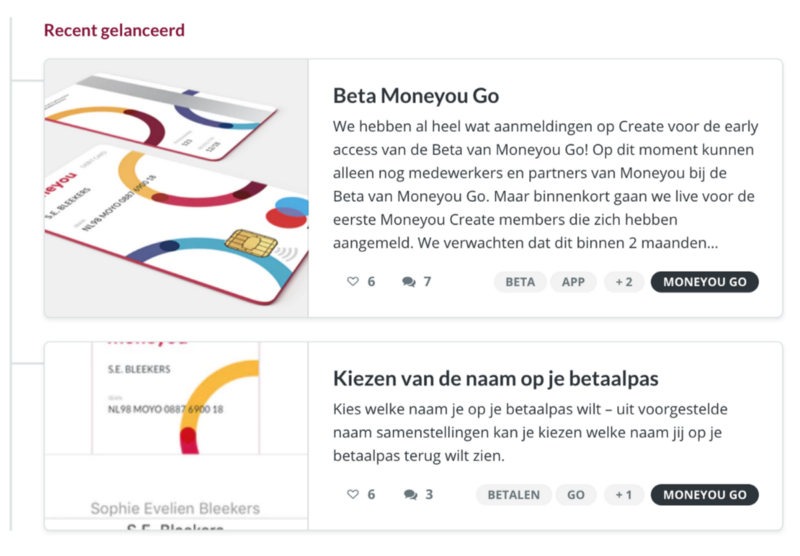 Moneyou Create now has over 500 members, and an impressive 41% is active on the platform. Since launching, there have been over 1,000 comments, 150 topics started, and Moneyou even recruits official ambassadors for their new products directly from their community.
Want to launch a community like Moneyou? Sign up for a demo here.